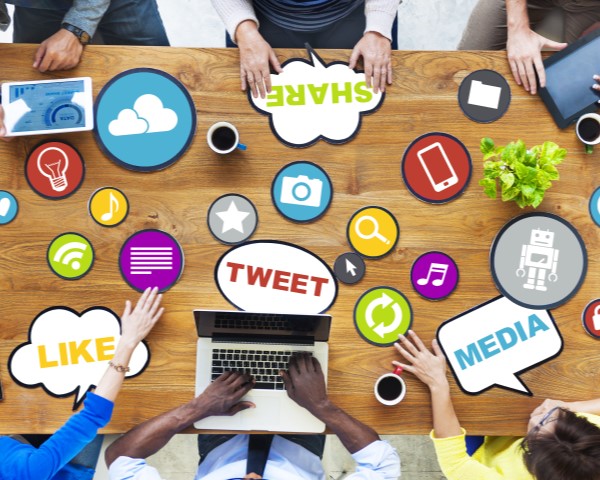 Social Media Management Tools
Let's face it: there is no single, affordable tool or application to manage every aspect of social media marketing and handle all of your social media channels. While many companies continue to create a "one-stop shop" tool, you still may need to assemble a toolkit of several applications to cover your needs.
Social media management tools, also known as "social media dashboards," give you a single-screen or compact view of multiple social networks. Each dashboard tool tries to be compatible with as many social networks as possible, but there are limitations. There are tools that integrate with Twitter, LinkedIn, Pinterest, and in a more limited manner, Instagram, and Facebook.
The right social media management tool for your business should help you do the following:
Handle multiple social media accounts.
Provide a dashboard view of your social media channels.
Give access to multiple users, preferably with different permissions.
Schedule tweets, posts and updates.
Help you filter, manage and respond to messages – and even better if you can assign tasks to others on your team and track progress.
Provide metrics and easy-to-generate reports for your social media activities.
When it comes to managing Facebook and Instagram, these highly popular social networks are owned by the company Meta and the company limits third-party integrations. Meta offers its own planning and publishing tools for Facebook Pages, Facebook Groups, and Instagram. Some marketing experts believe that Facebook goes as far as suppressing the visibility of posts coming from third-party tools although Meta denies this claim. Because of the limitations, you may end up using Meta's own tools in addition to a third-party tool for all the other social networks you manage.
Many third-party social media management tools are accessible on mobile devices either through a mobile-friendly website or a downloadable mobile app. Some provide a desktop client and most can be accessed on the web using a standard web browser. Look for tools that give you multiple ways of accessing your dashboard.
Here are some popular social media management tools:
Hootsuite – This tool provides a free version that can work well for small businesses with only a few social networks to manage. With the free version, you can add two social accounts, schedule five posts, and provide access to one user. The lowest paid level is $49/month for 10 social accounts, unlimited posts and post scheduling, and access for one user. Hootsuite integrates with over 20 social networks including Facebook, Instagram, YouTube, LinkedIn, Twitter, Pinterest, and TikTok. Hootsuite offers a web-based dashboard and iOS and Android apps. The Team level subscription is $179/month and accommodates up to three users and 20 social accounts with unlimited posts and post scheduling along with roles and permissions and post assignments to team members.
SproutSocial – Like Hootsuite, this tool helps you monitor, engage, publish, and analyze results for your social media marketing efforts on Facebook, Twitter, Instagram, Reddit, YouTube, Tumblr and the Web. SproutSocial is a more robust and more expensive solution than HootSuite and does not offer a free version, only a 30-day free trial. The Standard account if $99 per user per month (or $1068 - $89 per month times 12 – if billed annually). The Standard level covers five social profiles with planning and publishing features, a social content calendar, review management, tasking, paid promotion tools to boost Facebook posts, and multiple reports. In addition to a web-based dashboard, SproutSocial is also available as iOS and Android apps.
Zoho Social – This tool offers the ability to schedule unlimited posts, monitor what matters, and create custom-reports to analyze your company's social media performance. The dashboard helps you manage Twitter, Instagram, Facebook, Google My Business, LinkedIn, and Pinterest. More recently, Zoho Social added support for TikTok, Instagram Reels and Stories, and YouTube Shorts. Zoho Social offers a free version for one user, one brand, and seven social networks. The Standard level is $10/month after a 15-day free trial and a Professional level at $30/month both of which do not accommodate teams. Their Premium level supports a team of three users for $40/month. All prices are for annual billing. Switching to month increases the price to $15, $40, and $65 per month respectively.
Loomly – This platform for social media management looks to set itself apart from the others, including HootSuite by offering several features either not offered by them or only offered at the enterprise level. Those features include post ideas, a content library, post optimization tips, an approval workflow, and an ads manager. Loomly supports Facebook, Twitter, Instagram, Pinterest, and LinkedIn and provides users a master calendar to manage multiple social media calendars with calendar views and post overviews. After a 15-day free trial, pricing starts at $26/month or $312 annually for two users and 10 social network accounts.
Buffer – While Buffer is not a traditional social media dashboard, it is a popular and easy-to-use tool to publish content to social networks to help you engage and also analyze results. Buffer supports Facebook, Google Business Profile, LinkedIn, Instagram, Pinterest, Twitter, and TikTok. You can schedule posts to multiple networks but also "buffer" posts into a queue with a custom, pre-determined publishing schedule to trickle content out multiple times a day. Buffer's handy browser extension lets you drop content you find on the web into a queue to share on your own accounts. Buffer gives you four options for sharing: share immediately, add to the top of your queue, add to the bottom of your queue, and share at a custom time. You can view, track, and even reshare your best performing posts straight from the Buffer dashboard. Buffer offers a free version with basic publishing tools, a landing page builder, up to three channels, 10 scheduled posts at a time per channel, and access for one user. After a 14-day free trial, their Essentials level is $5/month per channel followed by a Team level at $10/month per channel. In addition to the web-based platform, this tool is also available as iOS and Android apps.
Social media management tools should help you to manage multiple accounts with ease and to better provide content to your customers and prospects to increase engagement. These dashboard tools provide ways to monitor social media conversations and respond quickly. Choosing the right tools can relieve some of the resource demands of monitoring, engaging, and publishing to your social networks. Before picking the tool or tools you'll use to manage your social media marketing, make sure to do the research needed to identify the tools that best suit your needs and budget.