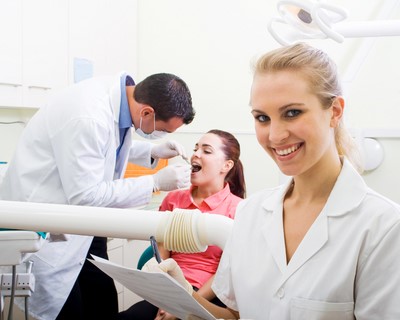 Trade Associations and Resources
Professional membership organizations can be a valuable resource for the busy dental professional. There are dental societies in every state and for every specialty. General focus and national groups also exist, serving as member advocates to government sectors, and providing opportunities for continuing education, networking, as well as other benefits. Here are summaries of and links to five of the most well-known professional dental associations:
The ADA is the world's largest and oldest national dental association. It was founded in 1859, and currently represents more than 161,000 members through local and state dental societies and the national organization. With its large membership, the ADA is a powerful voice influencing policies at all levels of government and promoting oral health care and legislative initiatives. The Give Kids a Smile Day charity provides free dental care for low-income children, and the ADA Seal of Acceptance is recognized by consumers as a symbol of safety and effectiveness on over 300 oral health products. Membership includes local and state dental society membership as well as the national organization. In addition to being listed in ADA's online public directory, Find a Dentist, members have access to ADA sponsored insurance plans and retirement tools; continuing education is available through online courses and at the Annual Session; state board continuing education requirements can be downloaded; there is an online ADA Library; and a variety of tools for practice management are provided in the Dental Practice Hub.
Founded in 1952, AGD is the only professional association that exclusively represents the needs and interests of general dentists. AGD provides its more than 40,000 members with the resources, support and inspiration they need to deliver the best dental care and oral health education to the public.
AGD's mission is to "advance general dentistry and oral health through quality continuing education and advocacy." Through this mission, AGD member dentists are able to build their careers, grow their businesses and protect their profession.
American Academy of Pediatric Dentistry
This is the professional membership association for the specialty of pediatric dentistry, representing 10,000 providers of primary and specialty dental care to children from infancy through adolescence. AAPD is the leading authority on pediatric oral health care, as well as on the development of oral health policies and clinical guidelines for pediatric dentistry. Members have access to continuing education programs, newsletters and journals, and many dental and practice management articles.
The mission of the AAPD is to "to advance optimal oral health for all children by delivering outstanding service that meets and exceeds the needs and expectations of our members, partners and stakeholders."
American Association of Oral and Maxillofacial Surgeons
The American Association of Oral and Maxillofacial Surgeons (AAOMS), the professional organization representing more than 9,000 oral and maxillofacial surgeons in the United States, supports its members' ability to practice their specialty through education, research and advocacy. AAOMS members comply with rigorous continuing education requirements and submit to periodic office evaluations, assuring the public that office procedures and personnel meet stringent national standards. The mission of AAOMS is to assure excellence in patient care by advancing, promoting and preserving the specialty of oral and maxillofacial surgery, and the skill and professionalism of AAOMS members.
American Association of Orthodontists
The American Association of Orthodontists (AAO) was created in 1900. Only dentists who successfully complete an accredited orthodontic residency program after dental school are accepted for membership in the American Association of Orthodontists. The organization represents 19,000 orthodontist members throughout the United States, Canada and abroad.
AAO members are gifted and highly educated specialists who diagnose, prevent and treat dental and facial irregularities to correctly align teeth and jaws. The mission of the American Association of Orthodontists is to advance members' success through education, advocacy, and research that drive excellence in patient care.
Dental Resources
Though dental practitioners may rely on their respective professional associations for most of their information and support, additional resources exist to help with practice building and operations, revenue management, patient relations and other topics pertinent to running a successful dental business.
This is a nationwide dental recruitment agency in the U.S. that specializes exclusively in matching qualified dentists with dental employers, including recent graduates. DDS Resources provides dental job candidates with professional recruitment services for every element of their employment search.
An online version of the magazine by the same name, this website keeps dental professionals abreast of the latest dental news, including new products and worldwide events. Featured articles from the print magazine can be downloaded for free.
Run by a well-respected publishing group, this online resource not only has the usual marketplace and blogs, but also provides free content on practice management and clinical issues. Up-to-date industry news is on the home page, free e-newsletters are available for subscription, and continuing education podcasts, webinars, and books can be purchased.
CDC.gov - Division of Oral Health
The Center for Disease Control's Division of Oral Health is responsible for improving the oral health of the nation. Information is provided on State oral health programs; HHS community water fluoridation regulations; infection control in dental settings; dental sealant information; and other timely topics that are pertinent to the dental community.